LARA (Music in the switch) - Color design - MF – ivory
LARA is a small "self-play" in the size of a switch in the Logus90 design. It can be combined in multi-frames and color combinations that Logus offers. It is equipped with a color OLED display, capacitive touch buttons and a built-in 2x10W amplifier. It can be used to play Internet radios, music from a NAS or telephone, it is possible to connect a door intercom (intercom) and you can also call between several LARAs in the house. Included is a remote control or application for control from the phone.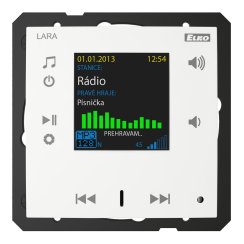 without frame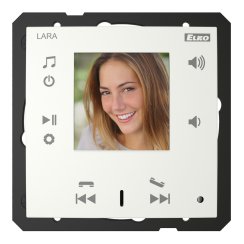 without frame
LARA is an extraordinary internet radio player that allows you to listen to any station in the world, moreover without the annoying rumble of classic FM tuners. Thanks to the construction and design of the switch, it is also possible to use LARA in every room in the house (children's or living rooms, bedrooms, kitchens, bathrooms), but also in waiting rooms, wellness, and other areas. We can also use LARA as an intercom. Not only can LARA communicate with a door phone, but it can also communicate with other LARAs or smartphones that can be deployed throughout the house. This will allow you to call any member of the family.