Relays - Functions - BL - flasher
| | |
| --- | --- |
| | Devices used for time switching of appliances. The use of time relays is almost unlimited. They are used not only in households but also in industrial applications for process control, machines, etc. The basic functions of the time relay include delayed start/return, cycler, impulse relay with delay. Universal power supply ranks them among the TOP on the market |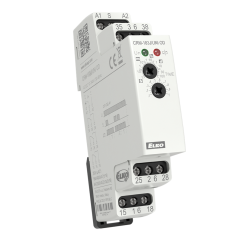 Single function time relay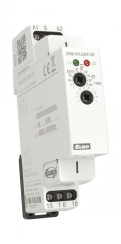 Single function time relay
Time relays include a wide selection of single-function time relays with functions delayed start, delayed return, cycler (flasher), via multifunction relays up to special (star/triangle, deceleration delay without supply voltage - true off relay). All types are characterized by a universal supply voltage AC / DC 12-240V, a power contact 16A (or three 8A contacts) and a wide range of time settings. A unique bestseller is the Multifunction Time Relay CRM-93H / UNI, which in a 1-module (17.5mm) combines all the advantages of time relays and has 3 changeover contacts. Time relays are supplied in MODUL version (on DIN rail), BOX (for mounting in the installation box or under the switch), in the socket (11-pin round socket) or in the panel (in the cover of the switchboard). A digital version (PDR-2) with LED display and 16 functions is also available.
The offer of time relays also includes staircase automats in a simple or extended version. In the extended version, the light time or the premature switch-off of the light can be performed by the length or number of button presses.
The wide range of timers offers from simple with daily/weekly program, single or dual channel, through the annual or astronomical program, with DCF control (automatic synchronization for accurate time) to a version with NFC communication, where programs can be set and copied via smartphone from the application.